Minneapolis
Charter Bus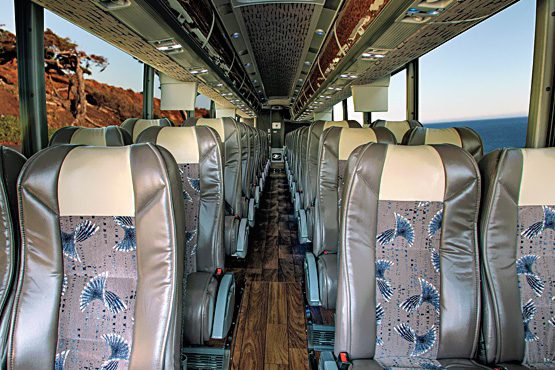 We're So Excited for You to Travel with Minneapolis Charter Bus!
---
Thank you so much for coming to Minneapolis Charter Bus for your road trip! Whenever you're planning to head out on the road with a large group, a charter bus is always a smart choice. There are so many different styles of trips out there, ranging from an hour or two on the freeway to a day-long excursion, but either way, hiring a charter bus with a professional chauffeur takes so much of the stress and headache out of that travel. You're left with all the great things about hitting the road and none of the frustrating ones! Let Minneapolis Charter Bus tell you a bit more about the perks of heading out in one of our luxurious vehicles.
Exciting Amenities That Make You Feel at Home on the Road
---
When it comes to long distance travel in a charter bus, Minneapolis Charter Bus really knows what you need to feel comfortable and at home. Our buses are packed with the most mind blowing features. We have an entire fleet to choose from, so some of our buses seat as few as 35 while others seat as many as 60! Most feature a lounge area with cozy sofas so that you can break away from the group to have some intimate conversation. There's plenty of storage space both in the overhead and in the under-bus area, so you can throw your carryon type luggage above you and your heavier luggage underneath. Our buses feature HDTVs, premium sound systems, charging outlets, and free Wi-Fi!
Stress-Free and Safe Travel
---
You'll have a professional chauffeur behind the wheel, taking care of planning the route to every destination, battling traffic instead of you having to deal with it, and taking care of finding a parking spot only AFTER you've been dropped off right at the door of your destination. Statistically, you're much safer traveling in a charter bus than you are in your own car, and you're able to indulge in your favorite alcoholic beverages without having to worry about choosing a designated driver. Our pro chauffeur will be your designated driver the entire time! Zero worries, zero stress.
Environmentally Conscious Adventures
---
Our earth-conscious customers are always pleased to know that charter buses use less fuel per person than any other option out there. For those who are concerned with their carbon footprint, this is so much more responsible than all of you heading out to your destination in your separate vehicles. This is a perk that everyone really appreciates these days!
There are a million reasons that renting a charter bus is the smartest move for your upcoming group travel event with Minneapolis Charter Bus, and we've gone over a few of them above. But everyone's needs are completely different, and we can serve those needs on various levels with any one of our vehicles, including charter buses but also incuding party buses and limousines. Just give us a call at Minneapolis Charter Bus and let's discuss your exciting event!